THIS SPRING, RECEIVE A PREPAID CARD UP TO $120 ON SELECT TIRES.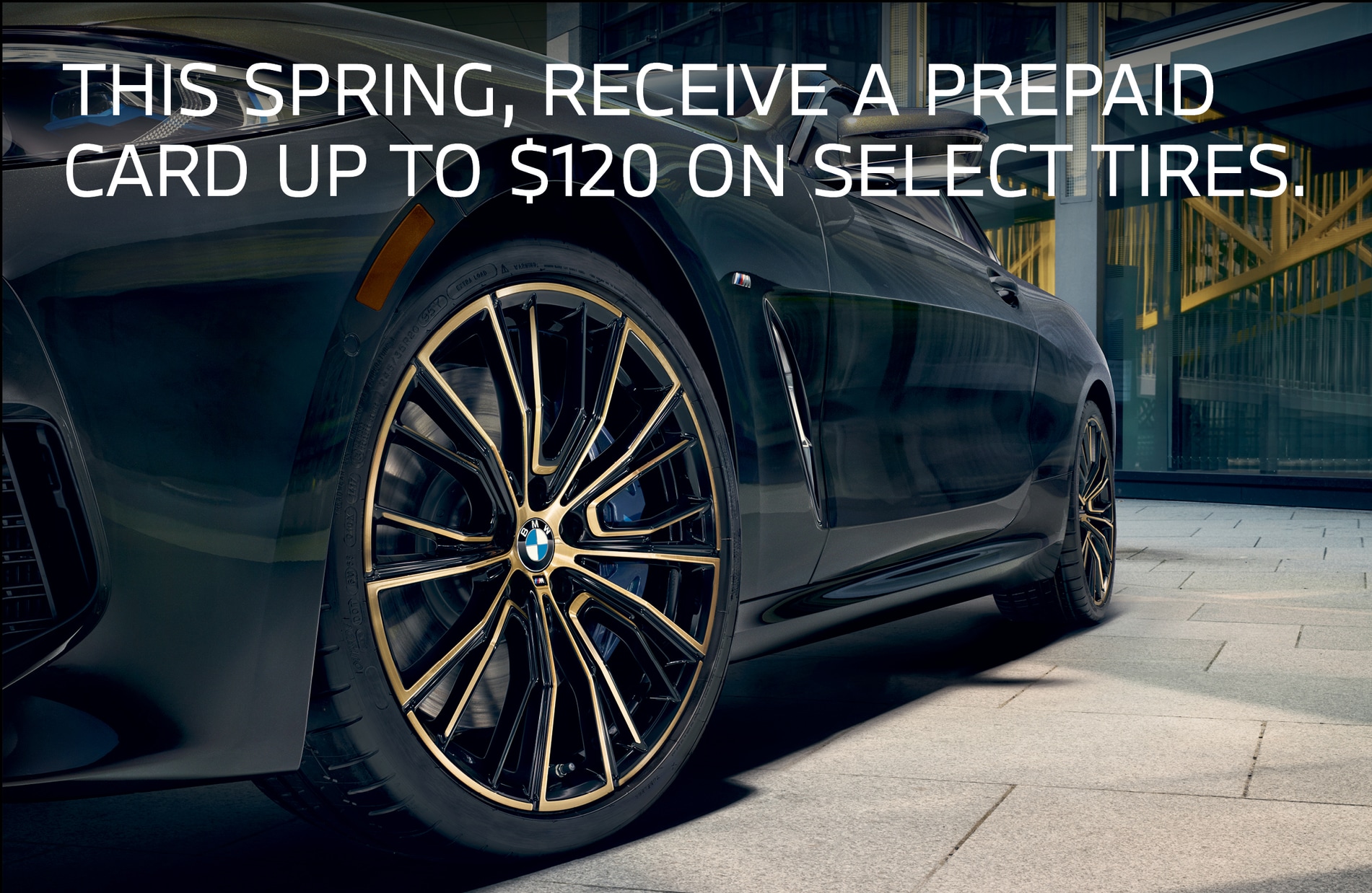 The seasons may change but your driving habits don't have to. Make sure your BMW is ready for warmer temperatures with a new set of Original BMW Tires. Specifically designed and engineered for maximum performance, they provide optimum traction and cornering in any weather conditions. Original BMW Tires help assist in the exciting driving experience that you expect from your BMW. 
Limited time only. Now Through May 31st
Purchase four select tires between April 1 - May 31st, 2022, and receive up to a $120 Visa Prepaid card by mail. Simply use offer code 2022-104b and submit your claim by June 15, 2022. 
Brands
You may be covered with road hazard tire coverage.
Nails, potholes, and other road hazards can cause serious and costly damage to your tires. Now, eligible tires purchased at a participating BMW Center will have complimentary Road Hazard Tire Coverage for the first year.
Shop Now.
For a limited time, receive a $120 Visa® Prepaid Card on a set of four eligible* OEM, OEA or WIN Bridgestone, Michelin, or Pirelli tires, or a $80 card on a set of four eligible Dunlop or Goodyear tires. Tires must be purchased at a participating BMW Center between April 1 - May 31, 2022. Submit your rebate claim online at https://BMW.offers-center.com/ with offer number 2022-104B or mail claim form with a copy of your receipt and you will receive your prepaid card within 8-10 weeks. The completed rebate form must be postmarked or submitted online no later than June 15, 2022, and received no later than June 30, 2022. Any submissions received after June 30, 2022, will not be honored, acknowledged, or returned. Contact center for details regarding eligible tires. Fleet vehicles are not eligible